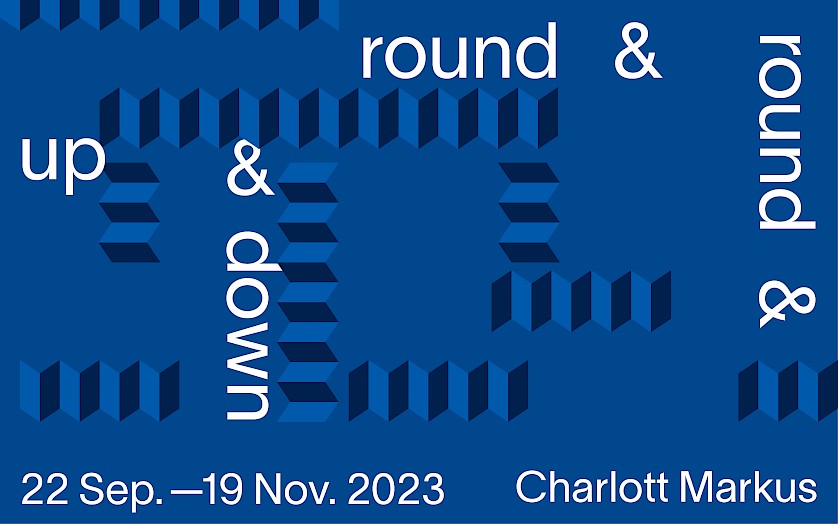 EXTENDED TILL DECEMBER 17, 2023!!
Friday September 22, from 5pm, the solo exhibtion 'round & round & up & down' opens at Beautiful Distress House in Amsterdam.
Round & round & up & down is based on Charlott Markus' experience as an Artist-In-Residence at the psychiatric hospital Zon & Schild (Z&S) in Amersfoort. The recurring themes in this exhibition are confinement, feeling safe and being seen. Markus' work is often about our perception of the world and ourselves, the layers we don't always want to see or reveal.
Markus started out making anonymous portraits, not of the heads but the hands of clients, and ended up making real connections and sharing stories. Together they practiced looking at the world from a slightly different angle. Some of these collected hand portraits are incorporated in the exhibition via print experiments on glass. For this exhibition Markus has also collected original textile curtains from Hebron, a huge, historical, and monumental building at Z&S that has been closed for several years.
Writing became Markus' outlet during her time at the residency; based on notes taken there she worked on a manuscript, mixing clients' stories with her own experiences and observations. This manuscript formed the basis of an eight-channel audio work that is providing an intimate atmosphere to the exhibition space. The intention is to create an environment that hints at an intersectional view of society and allows us to contemplate our relationship with mental health and the politics surrounding it. In the end, Markus says, it is all about being seen and feeling safe.
The exhibition can be seen from September 22 till November 19, 2023.
PROGRAM
Opening
Friday 22 September, from 17.00
Welcome word by Beautiful Distress
Introduction by Ans Zandee / the Zon & Schild residency initiator & coordinator
A performative gesture by Charlott Markus together with artist Helena Sanders
Film Soiree
Sunday 15 October, 16.00 - 18.00
Charlott Markus will select a film that fits the theme of the exhibition. The afternoon is intimate, accessible and there will be room for conversation and drinks.
*More information about the screening will follow.
Evening Lecture
Thursday 26 October 19.00 - 21.00
Zon & Schild ontmoet het publiek: (in Dutch only)
'Ongezien leven. Over wat verborgen blijft voor de ander en voor onszelf' - Lezing met Boukje Grashuis, geestelijk verzorger op Zon & Schild. Een lezing over verborgen levens in de achterkamertjes in de psychiatrie en over alles wat tussen ons verborgen blijft.
A Communal Reading Event
Sunday 5 November 15.00 - 17.00
Reading together - A communal reading event – reading selected texts together. Content that relates to the themes of the exhibition. A casual Sunday afternoon sharing texts with each other. Come and share a poem, your own writing or favorite piece of literature that relates to feeling seen, feeling safe or another theme you think fit for this exhibition. An event with the artist who will read from her own texts.
Finissage & soup
Sunday 19 November from 15.30

For a Guided Tour by the Artist (e.g. for a school class), please be in touch with Ezra: ezra@beautifuldistress.org
This project is made possible with the generous support of
Mondriaan fonds
AFK - Amsterdam Fonds voor de Kunst
GGZ Centraal
Beautiful Distress