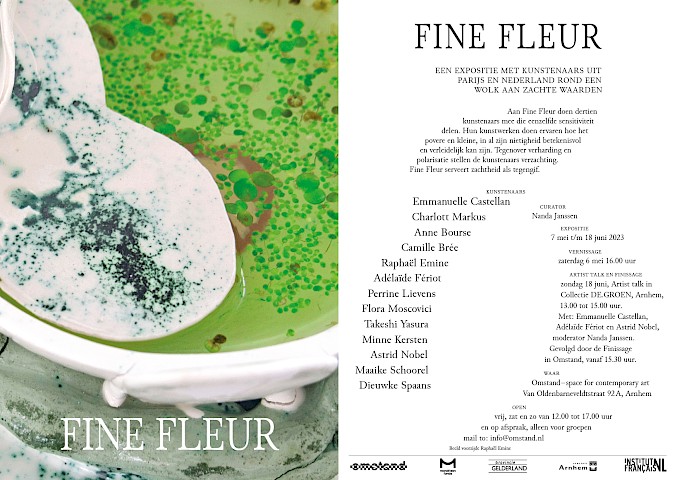 An exhibition curated by Nanda Janssen, opening 6 May at 4pm at Omstand, Exhibition Space for Contemporary Art
"An exhibition featuring artists from Paris and the Netherlands around a cloud of soft values.

Fine Fleur brings together thirteen artists who share the same sensitivity. Their works of art make us experience how the humble and small, in all its insignificance, can be meaningful and seductive. Fine Fleur serves softness as an antidote. Led by curator Nanda Janssen, the exhibition focuses on the small, the rarefied, the fragile, the porous and the elusive."
With: Emmanuelle Castellan, Charlott Markus, Anne Bourse, Camille Brée, Raphaël Emine, Adélaïde Fériot, Perrine Lievens, Flora Moscovici, Takeshi Yasura, Minne Kersten, Astrid Nobel, Maaike Schoorel, Dieuwke Spaans.
OPENING: Saturday May 6, 2023, 4 pm
EXHIBITION: May 7 - 18 June 2023
WHERE: Omstand, Exhibition Space for Contemporary Art,
Van Oldenbarneveldtstraat 92 A, Arnhem

Exhibition opening hours: Fri, Sat and Sun from 12.00 - 5pm
(Images © Raphaël Emine, Nanda Janssen, Omstand)